This year the Conscious Life Expo was the best one yet. I have attended for the last four years and I was very impressed by the line-up of speakers and exhibitors this past weekend.
I chose to be there every day and I thoroughly enjoyed the following panels and workshops:
Dr. Dain Heer's "7 Keys to Conscious Embodiment" and "Being You, Changing The World"
Zarathustra's "Heart-Awakening: Self-Love & Acceptance"
Spiritual Healing panel, Angels panel, and Real Food panel
Lynne McTaggart's "You Say You Want a Revolution"
Eric Pearl's "The Reconnection: Heal Others, Heal Yourself"
The only problem with the event is that there were so many great speakers I couldn't see all of them. The others I would have enjoyed seeing were: Gregg Braden, Dannion Brinkley, Howard Martin, David Wilcock, Darren Weissman, Marcia Wieder, and a few more of the panels.
The great part of an Expo like this one is that you get to sample different spiritual leaders and authors in a quick, easy, and affordable way. I had always wanted to see both Lynne McTaggart and Dr. Dain Heer speak and I loved them both. Now I follow their work even more closely so there is a great synergistic benefit for both the speakers and the attendees at events like this.
The exhibitors were also fascinating. I picked up marketing materials from at least forty different companies that interested me. I am excited to try out the LA Float Center and find a local Access Consciousness practitioner because I was able to experience that profound healing work. I also loved Jo Jayson's goddess artwork and Jewels of Light chakra artwork and I bought some of their products.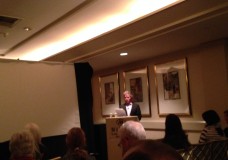 Being in the world of mindful media, I am always excited to attend the Expo's Conscious Life Film Festival. I had already seen many of the films as it's part of my responsibility to screen them. However, this year there was also an awards show hosted by Jon Savage. The Evolution Award went to "All You Need Is Myth" – a fascinating documentary about the role of myth in our music legends. The Activist Award went to the film "Lookup" about geoengineering and the disturbing chemtrails that many still don't know about. The Conscious Life Award went to one of my favorite, recent documentaries "Femme" starring Sharon Stone and Marianne Williamson about the re-balancing of feminine energy that is needed at this critical time. The Dannion Brinkley Award went to "Walk-In" a dark drama about angels. This Festival is excellent because it helps share these mindful movies with the world and it's a chance for filmmakers to be recognized.
The 2014 Conscious Life Expo was full of inspiration, positive energy, enlightenment and entertainment. It felt fun and fulfilling to be there for four days in a row and to meet so many new people. I will definitely be back next year.
I highly recommend this Expo whether you are a brand in the personal development market and you need a place to showcase your products and services or whether you are a spiritual seeker and would like to learn more from some of the world's best visionary leaders.
Entertain, Enlighten, Inspire,
Kate Neligan – Founder of Synergy TV Network